The future of video marketing: Interactive videos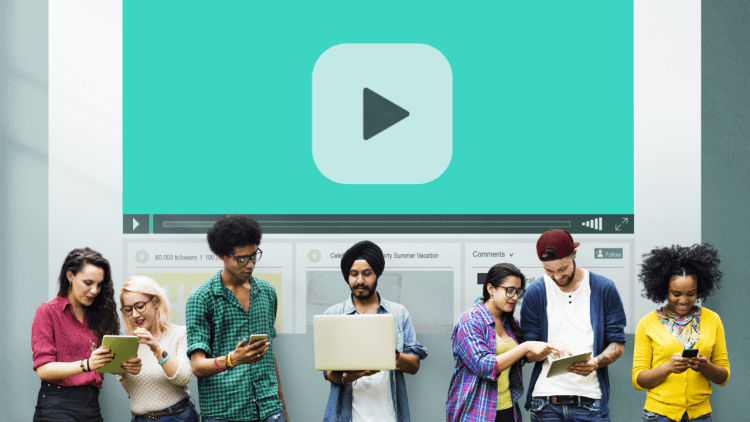 "The digital space is crowded with innumerable videos. Most of them look the same. But these special kind of videos are getting all the attention!"
It is no news that videos are the most effective marketing tools. Various researches, stats and facts have already proved this point time and again. So let's move ahead and see how can you stay ahead in this video marketing game.
The digital space is crowded with innumerable videos. Most of them look the same. But these special kind of videos are getting all the attention. They are interactive videos. Have you heard about them before?
You must have guessed by now that interactive videos facilitate user interactions through clicks, swipes, touch etc. But there is more to it. Interactive videos are making waves because now videos have become engaging like never before.
Imagine that you are watching a video of your favorite celebrity. Now you find yourself drooling over the dress, sunglasses or shoes that your heartthrob is flaunting. You are wondering where do they get such smart stuff from?…..and when you hover the pointer over that amazing thing, you get a link to buy something very similar!! Eureka!!
Can you imagine how delighted your customers will be if they could navigate through your videos? You can make a video about the wonderful benefits your product offers and include various links in the video itself. These links can direct the customers to explore certain features of your product in more detail, take them to the buying page, show them other variants etc.
Your prospective customers may not want to watch a 6 min. video, waiting to know something specific. They may not have the patience and time to watch 10 videos to be able to get the complete picture of the various services you offer. Well, they just want to have their own way! Even if you do not provide them this convenience, other companies will!
See how your customers can navigate through an interactive video to learn about the product features that matter to them:
Get an edge over others by making things easier for your prospective customers. Understand that they want to save time and clear their doubts. Help them learn and navigate through the video content at their own will.
Interactive videos offer a range of benefits for the organizations too. You can now include "call to action" in a more effective manner. Showcase a variety of things in a single video and add links to explore or purchase the products right away! You may also include a link to download a catalog, in the video itself.
Interactive videos can be customizable to a whole new level. It is difficult to narrow down to something that each one of your prospective customers will like because everyone is different. Interactive videos provide better control to the viewers, they have the liberty to shape the video as they go forward. In such a scenario it's nearly impossible for them to get distracted.
Let us see how Disney Channel UK had come up with this fun interactive video for its teenage audience. Check out the comments to understand how such videos add to the excitement and increase the involvement of viewers:
Intelligent marketers know that it's good to educate their customers and leading organizations are always looking for effective ways to train their employees. Interactive videos are great for both these purposes. A video can start with an overview of the topic and then provide the viewers with options to jump to the sub-topics that interest them. Drawings, annotations, labelling etc. are an integral part of such videos. Learners have the option to deep dive into one topic or clear doubts on the other. Interactive videos can also include a quiz at the end of the session. Those looking for more detailed information can be directed to reference materials, like reports, research papers etc.
This video below (Watch the video in fullscreen for a better experience), serves as a camera buying guide. You get to choose whether you want to know about the camera's features, types or storage & transfer. Note that, those who what to learn about everything can watch the entire video without clicking. Thus, interactive videos can serve a dual purpose!
Have you heard about personalized videos? Interactive videos can get data from viewers and modify the content accordingly. Viewers can change the language or theme of the video. For instance, your video may ask for the name, gender, age, educational qualifications and occupation of the viewers. Accordingly, it can address the viewer by his/her name and display content based on the interests of the people of that gender, age and educational background.
According to an article in Forrester, one of Samsung's interactive ads got an interaction rate three times that of a non-interactive ad! Interactive videos can be utilized by all the industries, be it fashion, FMCG, education or any other. Early adopters have been taking advantage of these videos since past few years. Pepsi, Loui Vuitton, Maybelline, Philips and various other brands have produced interactive videos and have received an overwhelming response.
If you have still not thought about interactive videos, you might be missing out on the opportunities. You need to come up with new things to increase your visibility. If you wish to get an amazing interactive video done, we at Explainers.in are looking forward to work with you.