10 reasons your business needs an explainer video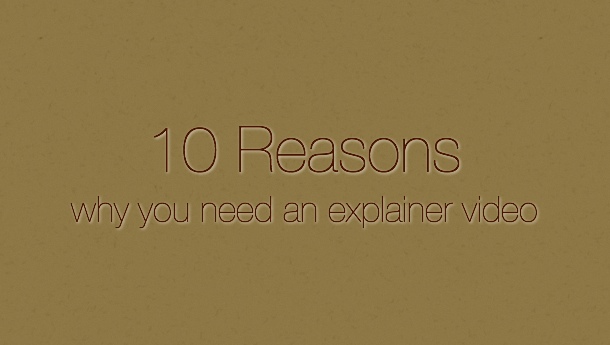 Attention spans aren't long these days, and so it is important to pack the message of your website into a small palatable video. Here's ten reasons why your business needs an explainer video:
1. Increased Conversion Rate
There are numerous examples(CrazyEgg, Dropbox, etc) of well made videos that have helped their respective businesses to increase sales tremendously.
2. Increased ROI
What you invest on a video is negligible when compared to the traffic, engagement and sales that a video can create for your business. Money well spent, with great Returns on your investment. Moreover, Explainer video companies charge a lot less than the usual agency rates.
3. Rank better in Google Search
Websites with video are 50 times more likely to be ranked on Google's first page. And since a video thumbnail appears to the side of your post, the likeliness of a clickthrough is that much greater.
4. Easily shareable
Videos are easy to share – publish to facebook or twitter, and they are embedded automatically. Attach to email newsletters, and you can see an increased engagement.
5. Simplifies Explanation
Explain your concept, product or service quickly and easily using an explainer video. Complex subjects can be dealt with in a fun and entertaining manner.
6. Your perfect pitch, everytime.
If your concept is hard to explain, you end up wasting a lot of time trying to explain it correctly. An explainer is usually carefully packaged to convey the message in a fun and entertaining way, that too within less than 2 minutes. A great start before you actually start your sales pitch.
7. Grab the attention of your audience
Customers are put off if a website has a lot of text and images. It is usually better to simplify this message using a video on the landing page. A video helps explain your concept better, while reducing a lot of unnecessary clutter. Check out dropbox.com for an example of a simple website, centred around its video.
8. Help your audience retain information
If a picture is worth a thousand words, a video is probably worth a million. Videos are engaging, entertaining and help your customers understand your product better. This means they remember and recall better.
9. Increase web traffic
If a video is done right with the right dose of fun and entertainment, it can go viral online. Social media helps spread the video quickly and within no time, your video is viewed millions of times, thereby referring that much traffic back to your website.
10. Customers are hooked to video
Online video is one of the most important trends in recent times, with customers spending a lot of time, watching videos on youtube and other media platforms.