4 Businesses that Made the Best of Animated Explainer Videos for Marketing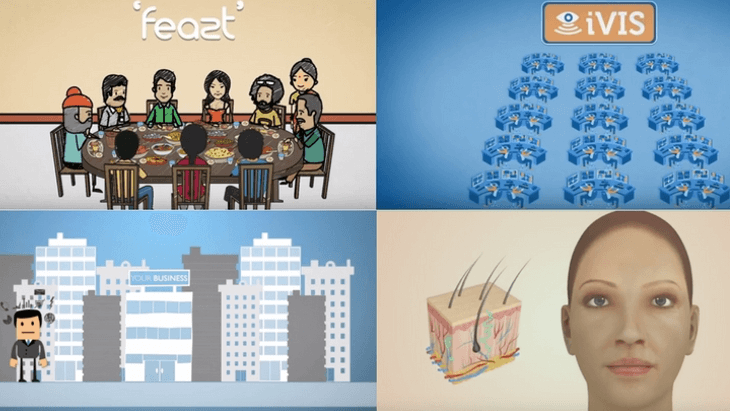 Animated explainer videos are one among the best video content marketing strategies for businesses that want to grow big in terms of reach and conversions. There are numerous businesses that have already proven it. The businesses themselves are different from each other and so are their objectives. But, animation explainer videos worked as a wand for all these brands in achieving success and there is something for you to learn from each of these videos. For you, we have four businesses that made the best of the visual content marketing.
Feazt – be funny
There is a proverb that reads Necessity is the mother of invention. For example, when our daily-routine was getting occupied with never-ending chores, online marketplaces took shape and have become billion-dollar businesses. When you have such a think tank business model, you should let the solution seekers know that the wait is over. When you are addressing the problem, what matters is the way you approach your audience. So, first make a checklist of points such as who you are targeting, what geographical area you serve for, the local language, and the accent and later, prepare an enticing script. Try to convey how your product/service resolve the problem and how it could be the best alternative, just as Feazt, an online platform for foodies, nailed it with their animated explainer video!
Biotex – Tap your customer's emotion
When Nokia 6, the first-ever Android smartphone of Nokia, was released in early 2017, it went out of stock in a few seconds of its very first sale on Amazon, despite the cut-throat competition in the mobile phone market. What triggered this rapid sale? It's the emotion of Nokia's nostalgic fanbase. This case tells us the significance of emotional engagement in generating sales for a business. Okay, Nokia is not a novice and it was boasting more than 48% of market share in its good olden days. But if yours is a startup, how can you tap the emotions of your targeted audiences? Animated explainer videos can be your savior in this context. To be more touching and engaging, you can create animated characters that resemble your targets and their problems, the way Biotex did.
GBB – tell what people would love
Usually, you go through the full specifications and customer reviews of a product or service before you buy it and so do your customers. They want to know if you have any previous clients and achievements and how you can be the best alternative for them. A well-crafted explainer video should feature all this information in a comprehensible way, just as GBB tailored one for their IT product. The video first addresses the problem enterprises were facing at that time and how GBB supported their growth with smart IT solutions. Later, they told their approach towards customers with a touching line, 'for us, the customer is king!'. And the next few seconds of the video focused on building credibility by showcasing their greatest achievements. Overall, GBB got a complete video with every aspect a customer would love to know about the company.
ProVigil – give reasons
In this competitive world, you have a hundred competitors aiming at the same demographic. To stand out in the crowd, you should reach your customers with a strong message and visual content is a prominent medium for this very purpose. You can showcase yourself as an industry leader, same as the way ProVigil did for themselves. The company narrated a story that tells how they are unique from others and what benefits a customer would get from them. Have a look at it for yourself:
In a nutshell, your animated storytelling has to be funny while giving value to your audiences with the information that they would love to know before they make their mind to try your services or products. And that is what Feazt, Biotex, GBB, and ProVigil did with their animated explainer videos. So, how are you planning yours?